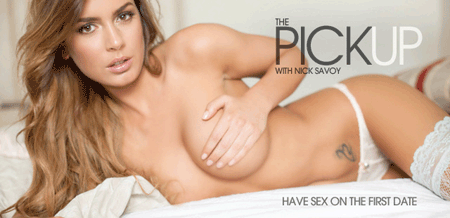 The Pick Up: How to Have Sex on the First Date
Read the original playboy article here
Dates are the worst place for things to go wrong. If you walk up to a woman at a bar and she isn't interested, well, no big deal. You've lost 15 seconds. But if you talk to the same woman for a few hours (instead of other women), follow up with phone and text chat, and then invest a few hours in the date, you've already invested a lot in her.
So let's make the most of it with these five tips:
1. DEATH TO THE DINNER AND A MOVIE DATE
If you do what every other guy does, you'll get what every other guy gets: the three-date rule and maybe a kiss goodnight.
Dinner is a bad date because you're sitting across from each other—no touching—and the only source of entertainment is the two of you talking to each other. Some guys find that potentially awkward for a few hours on a first date.
Movies are bad for the opposite reason—you can't talk at all.
2. START AT YOUR HOUSE, END AT YOUR HOUSE
You want her to come home with you at the end of the date, right? So don't plan for the two of you to be in separate cars on the other end of town.
Have her meet you at your place and leave from there. Even better, invite her in for a second (without making a move) so she can see how awesome you are from your living room and so she's comfortable coming back later.
Later, she has to come home with you, at the very least to pick up her car. That's when you can invite her in to check out that book or video you were telling her about…
3. ACTIONS SPEAK LOUDER THAN WORDS
At various points in the night, a woman might tell you that she's not going to have sex with you. That means she is thinking about sex with you.
Don't argue. If you're not yet in your bedroom (or the equivalent), then don't have this conversation—it risks locking her into this position, whereas she might have just been saying that so that you don't think she's easy. Just say "cool" or tease her for being presumptuous or change the subject.
(It should be beyond obvious, but just in case: no means no and stop means stop. Consent is everything.)
4. GET THE FIRST KISS OUTTA THE WAY EARLY
She's been on dates before. She knows that at the end of the night, you're probably going to be wanting to take things—physically—to the next level. And she's going to be thinking of whether she wants that too.
Make the stakes higher than a kiss! Get the first kiss out of the way early—at an early emotional high point like the two of you laughing together. You don't need the 10-minute makeout, just enough of a kiss to establish that kissing isn't breaking new ground. Kiss her again a couple times during the date (not so often as to make her uncomfortable) and you'll find that your end-of-date situations are a lot more interesting.
5. GO WHERE YOU HAVE AN ADVANTAGE
For an extra advantage, take her somewhere you're familiar with, where you know people and are respected. There's a Love Systems concept called "Social Proof" that means that people, especially women, are influenced by how other people act toward you. And it works. So if you take her for a drink somewhere where everyone makes a fuss over you and the hot bartender flirts with you, you'll be better off than if you go somewhere random.
It's not absolutely crucial to do this—it's an advantage, not a necessity—but you definitely should avoid the opposite. It's much harder for a woman to feel attracted to you if your first date with her is at an event where she knows everyone and you're competing for her attention.
---
---
Leave a comment