It's actually a lot easier than most people think, if you know what you're doing.
One big threesome secret…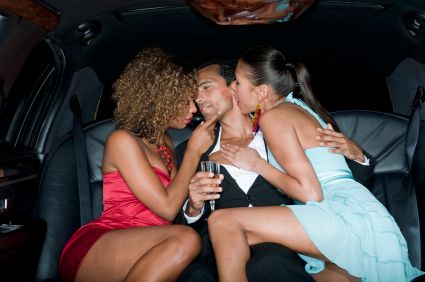 The biggest threesome secret is that screening is more effective than persuading. Some women will just never be into threesomes, or sharing their partner, or other women. And some women become a lot less experimental the longer they are in a relationship (though the opposite can also be true). Moreover, a woman is going to be more open to leaving her comfort zone or being adventurous if you haven't already set the tone for a more 'traditional' relationship.
So, if you're a single guy, and you know you're interested in threesomes, screen for this early and plant the seed early. Tell a story about your ex-girlfriend that happens to involve a threesome (but don't make the threesome the point of the story, or seem like you're bragging). Play a game of "fuck, marry, kill" and throw a woman into the mix. And so on. And then continue with the advice below:
If you're already in a relationship…
Bring up threesomes from her perspective. This is crucial.
So never say: "I want to fuck another woman." Say "I want to share another woman with you."
Never say: "I really want to have sex with your best friend." Say "Sharing another woman with – someone you're already so close to – would be such an amazing experience and I think bring the two of us even closer together."
For a woman, a threesome can be many things. In addition to all of the sexual excitement, she might also be thinking of ways to indulge her curiosity about other women in a way that could be less awkward, about making you happy, and about sharing an intense and powerful experience.
But you also need to watch out for things she might be worried about, and, ideally, to defeat these objections before they even come up. For example, she might be worried that you want a threesome because she's not "enough" or you're getting bored with her or losing attraction to her. One aspect of female psychology is that women often have these worries, even outside the context of threesomes, even if they are illogical. Reassure her in advance – show her you're in touch with her feelings.
If this is her first time, she might also be worried that she might not be able to handle seeing you with another woman. Give her a safe word so she can call a halt to things if she's becoming uncomfortable. She'll almost definitely not need to use it, but knowing she has that option should reassure her.
She might also be worried that having a threesome with you could open a can of worms that she's not able to control in the future. Will you start expecting threesomes all the time? Will this replace regular sex? Will you start hooking up with these women even when she's not there? Will you start expecting her to have sex with any woman you bring home? Again, even if these fears might be illogical in the context of your relationship, it doesn't mean that the fears won't be there. Reassure her before she brings this stuff up.
But don't just pull up a chair and go through the situations above and say "just so you know, I won't do that"? Of course not. That could come across as insulting and/or condescending. And even if not, it is likely to kill any romantic or fun vibe you had going.
Also – she might not be worried about every single one of these things. So by talking about them all, you risk making her concerned about something she hadn't even been thinking of. Especially – in many women's logic – since you brought it up, so obviously YOU are thinking about it, at least on some level. Moreover, she might not have realized quite how many worries she has, or should have, until you start marching through a giant list of them with her.
In addition, you don't want to come across like you're trying too hard. If someone is trying to get you to go to a concert with them, and they list a million reasons why it will be fun and a million possible objections you might have to going and why those are invalid, you might wonder if there's a hidden agenda under the surface. Even if that's not necessarily logical, logic doesn't drive sexual behavior or desire, and this could be a turnoff for her.

Instead, go back to the storytelling technique we were talking about earlier. Tell her a story about yourself or a friend where there's a subplot involving threesomes and how they actually benefited the relationship. Be subtle. Make sure the story will still work equally well without the threesome. If you don't have a story like this in your repertoire, invent a female friend who was asking you for advice because she wants to explore threesomes, and then tell her what 'advice' you gave her. That will be a conversation starter.
This should definitely be enough to get you started. The actual mechanics of the whens, wheres, and hows will have to wait for a further Dialled In article, or you can check out my audio guide to getting threesomes now.
---
---
Leave a comment