Hey man. New Year's is coming up. Do you have a date?
It's not too late.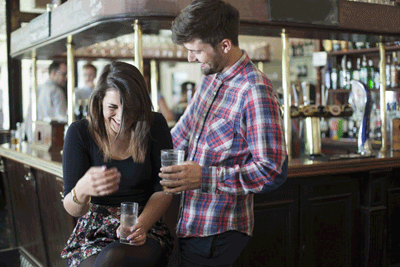 In this article, I'll show you a couple ways to get a last minute date. At then at the end, I'm going to give you some shortcuts to improving your game over the holidays.
The first way to get a last-minute NYE date is to meet someone who doesn't already have plans, or who has plans she could change or add you to. There are still days (and nights) before New Year's Eve to meet women. Once you're five minutes into the conversation with someone you like, it's natural to ask what she's doing for New Year's.
If you're not meeting enough women this way, then this might be a good time to dive into online dating, where you can meet women 24/7. To make the most of your time, invest in Derek Cajun's Gentleman's Guide to Online Dating. It's full of virtual "cheat codes" to get women off the site and wanting to meet up, and usually wanting much more than just meeting up...
When you ask what she's doing for New Year's, you'll get one of three answers. Worst case, she has firm plans that wouldn't be easy for you to join, like she's going to Vegas with her girlfriends. In that case, invent equally-cool sounding plans of your own and then change the subject.
Best case, she won't have any plans at all. Tell her that you don't either, and suggest that you find something together. Whatever party or event you two end up going to (ideally pick something where neither of you are going to know anyone), you'll effectively be each other's dates.
Most likely, she'll have plans that she could change and/or have you join, e.g., if she says that she's going to a local bar with some friends. She'll ask what you're doing; tell her you're free but not in a way that makes you sound like a loser. For example: "A buddy of mine rented a boat and it was going to be an awesome party, but he just broke both legs skiing, so that's not going to happen. I'll figure something out."
If she's interested in you, she'll invite you to come along with her. Even if she doesn't say anything right away, she might ask later if you're still looking for something to do on New Year's.
There's another way to get a last-minute date, and that to go to party that you found on Meetup or Facebook (or some other social networking sites). Often these will list other people who are going, or who are in the group and invited. Message women who look interesting and ask if they're going. Use this as a hook to flirt a bit online (again, Derek Cajun's book is great for online flirting tips, as is Nick Braddock's ultimate text messaging handbook). Worst case, you'll know a bunch of people who will be at the party or event. Best case, you'll connect with one of them and arrange to meet up a bit before the party and go in together. Now she's your date!
It might not sound like a big deal - walking in with someone vs. meeting someone in the venue - but at a party, especially, a woman is going to feel much more like your date (and act accordingly) if you follow the rituals of her being your date, picking her up, going somewhere together, etc.
That will get you to the venue. Be sure to check out these New Year's Eve guide for what to do at the party once you get there:
---
---
Leave a comment