Excerpt From Two Girls in Hong Kong
by Thompson Future
Her tattoo was a dragon that perched on her shoulder and trailed in a thin line down her back. It was audacious and feminine somehow, and it had stopped at the bar. I swooped in and shouldered her out of the way.
You're hot enough to get served second," I said into her ear without looking at her. She looked appalled. "I love your tattoo. What's your name?"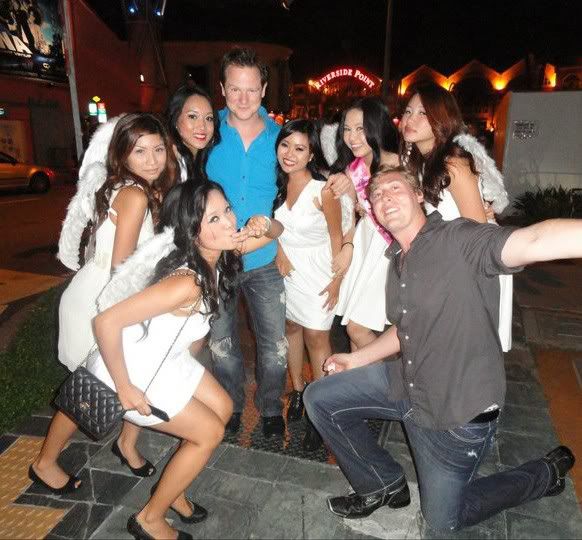 "Mai," she said.
"Why are girls in Hong Kong so grabby?" I scream-said into her ear.
"What do you mean?" she said with a laugh.
"Even just walking around, even dancing with other guys, I feel like every girl in here is trying to give me a massage with their asses," I said, checking her with my hips. "Like you did just now."
"Who are you?" she said. It's the tone when they ask, emphasis on that second word. That's when you know you've stood out....
Stay Out of The Friend Zone in Asia and Beyond Excerpt
by Nick Savoy & Jesse Starlight
Physical Progression: When you first approach, let your hand lightly brush against her fingers. See if she responds, or wraps a finger or two around your hand as you deliver your opener. Great way to screen for attraction off the bat.
Second, when you're sitting and talking (especially in Asia) public displays of affection are not always acceptable. Put a pillow over your lap, or your jacket, and hold her hand underneath it. Massage the pressure point in between the thumb and forefinger lightly while talking.
If you do these things, it is pretty hard to end up in the "friend zone" even if you are not telling her how hot she looks every five minutes. You are subcommunicating that you're interested in her as more than a friend with the physicality, and don't forget to tease a bit...
---
---
Leave a comment