Neil Strauss and The Game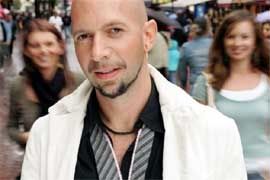 Neil Strauss (aka "Style") is the author of the bestselling book The Game, published in 2005, in which he recounts his journey from "average frustrated chump" to pick up artist. As part of an assignment for Rolling Stone Magazine he studied the pick up community and in the process became a PUA himself, thus proving their teachings and methodologies! Neil learned so much that he was even voted the top Pick Up Artist of 2003. He has also subsequently written a companion book to The Game, entitled The Rules of the Game. Although in it Neil Strauss briefly describes some of the techniques he learned, The Game is not a "how-to" book. We recommend the award-winning ebook Magic Bullets for a step-by-step guide to succeeding with women, whether your aim is to have more options in your dating life or to become a pick up artist (PUA).
Neil Strauss and Routines
The Game is also notable for popularizing the concept of "routines." A routine is something that a man can say or do to improve his success with women and that is repeatable. A good opening line, an interesting story, or a successful maneuver to get a beautiful woman to leave her friends at the bar to come home with you are all examples of routines. Neil Strauss refers to various routines frequently in The Game, and many up-to-date versions of these old routines appear in the Love Systems Routines Manual, which includes hundreds of word-for-word scripts from top pick up artist around the world along with commentary on when and how to use each other.
Neil Strauss and Love Systems
In The Game, Neil Strauss describes many of the colorful characters within the dating science industry. These were guys he spent time with, watching them and learning from them. They included Mystery, LBD, and Savoy among others.  Savoy, of course, is currently the President of Love Systems - the #1 destination for men looking to get better with women.
For further information:
---
---
Leave a comment